Since 2010 I've taken part in a yearly challenge to read 100 books. For 2020 I read 193 books! This is a new all-time record! Between lockdown and a lack of work, it was a good reading year.
94% of the books I read were fun books, and 6% were serious. This is the largest imbalance I've ever had, I think a desire to escape reality ran high this year :). I read a lot of historic fiction this year and hit a lot of duds when it came to science fiction.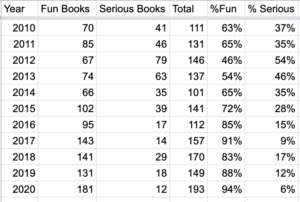 I do a big book summary each year too, if you want to take a look at past years for some reading ideas check them out here: 2010, 2011, 2012, 2013, 2014, 2015, 2016, 2017, 2018, and 2019, so what are my top books of the year?
If you only read 3 books this year I recommend the following::
1. Barbarian Days: A Surfing Life
This was one of the best non-fiction books I've read in the last 5 years. It is a memoir of his life, travel, and surfing. It was a fantastic read and just really hit me deep. I will be reading it again down the road. Some of the reflections on travel really resonated with why I love to travel. Amazing read.

2. Who Is Michael Ovitz?
Wow! I am not sure who recommended this book to me but it was AMAZING. It is about Michael Ovitz, the co-founder of the Creative Artists Agency, and an amazing person. Some great life stories about actors and Hollywood, highly entertaining, and one of the best business books I've ever read.

3. The Dresden Files
A fantastic fantasy series about a magician in Chicago. There are 17 books and I fell in love with the main character and the universe. Beautiful books and the humor cracks me up. There are some rough bumps in the reading toward some later books, but the last few have cleared up some of that. Highly recommended!

4 Best In Historical Fiction

1. Alex Kovacs Series
There are six books and they are based in the late 1930s in Europe and follow the growing rise of the Nazi party and subsequent outbreak of war. The main character starts in Vienna and takes you on a journey that really illuminates what it felt like to watch WW2 break out. Fantastic reads.

2. Eagle Series
I read books 1 through 6 of this series as it follows 2 Roman soldiers through several campaigns. I LOVE the characters and it is fascinating to go through this period. There are 13 more books but they are not on Kindle in the USA, I emailed the author to hopefully make those available so I can read the rest.

3. Roger of Huntley
This series follows a monk named Roger who flew the priesthood and joins the crusades around 1191. This is a fantastic historical fiction series with a lovable character as you see history through his eyes.

4. Bernicia Cronicles
These are based in AD 633 and following a Viking named Beobrand. The character can be a tad flat at times, but amazing reads and I've really enjoyed seeing this world. I pre-ordered book 8.

The 3 Best Fantasy Books

1. Codex Alera
Fantastic fantasy series by the author of the Dresden series. It has an incredible universe, great characters, and while the plot can be familiar at times it has its own unique charm. Highly recommended!

2. The Faithful and the Fallen
Huge and in-depth fantasy series that was a pleasure to read. There were some aspects I found frustrating but overall the cast was fantastic and the world amazing.

3. The 13th Paladin Series
This series is translated from the oringal German and fantastic reads. I've read the first two and looking forward to the next three. Great plot and characters so far.

2 Honorable Mentions

1. Greenlights by Matthew McConaughey was the 4th best book I read this year and just barely missed the best books cut. It is a reflection on his life and wildly entertaining. This guy is 100x crazier than I thought and a really fun read. I read it in one night as I couldn't stop and told Lindsey so many stories from it. Amazing read!

2. Michael Connelly is one of my favorite authors and I have now read all his books. This year I read his Jack McEvoy series which is a bit darker and follows a crimer reporter who gets entanbgled with serial killers. Great reads!

The Best Science Fiction

This year was a big miss when it came to science fiction. The only one I will mention is the Rise of the Republic series. It is a fun series about finding out how big the universe is. But the characters are rather flat. It does not measure up to the books from previous years so it isn't getting a ranking. I miss good science fiction. Too many authors seem to be publishing short books with barely any meat and trying to turn them out every few months.
Enjoy your next book! :)
Related Posts: