Since 2010 I've taken part in a yearly challenge to read 100 books. I love reading so this is not too hard. For 2017 I read 157 books! This is a new record versus my all-time high of 146 in 2012, and 141 in 2015. It helps when you sell your business in the middle of the year and have time off :).
91% of the books I read were fun books, and 9% serious.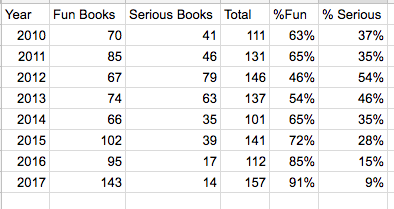 I do a big book summary each year too, if you want to take a look at past years for some reading ideas check them out here: 2010, 2011, 2012, 2013, 2014, 2015, 2016, and 2017. So what are my top books of the year?
If you only read 3 books this year I recommend the following:
1. The Red Knight series. This has become one of my top 10 all-time Fantasy books. The characters are amazing are amazing. Reading the last one was hard as I did not want to say goodbye.
2. The Bobiverse series… This is the best sci-fi series I read all year. I laughed so hard reading these :). Basically, this guy signs up to be frozen when he dies, then he dies, and then wakes up in a computer and the future sends him out into the stars on a mission. Bob is hilarious.
3. The Price of Civilization: Reawakening American Virtue and Prosperity. This book really hit home this year.
After top 3 of the year, my fav 3 Scifi / Fantasy:
1. Stiger's Tigers and the subsequent series. This is military fiction about a Roman legion in the wild… with a little fantasy thrown in.
2. The Red. A military series about small unit tactics in the future. Great narrative.
3. Books 1, 2 and 3 of the Embers of Illeniel series. Not your typical hero and pretty dark which was a nice change. Kinda like Conan meets Seven Eyes with a weird ending.
After top 3 of the year, my fav 3 *Real* Books:
1. The Chinese Dream: The Rise of the World's Largest Middle Class and What It Means to You. Fantastic book and the author has a great story about her own life straddling China and the USA. The book weaves together the macro and the micro for a really interesting picture. I love her overall message that China's growth is not a zero-sum game, and together with the USA and other western countries, the two can work together to build a better earth.
2. The Vanishing Middle Class: Prejudice and Power in a Dual Economy. Frustrating content, but really well put together. Illustrates the fall of the middle class in the USA and why…
3. Capital without Borders . A really interesting read on how wealth managers operate as told by someone who joined their ranks. Fascinating read on a global group of people who do nothing but help the top 1% hang onto their money and keep it out of the hands of government and other entities. So weird.
After top 3 of the year, my fav 3 Honorable Mentions:
1. The entire Harry Bosch series. I finished them all this year. I can't wait for the next season of the Amazon tv series.
2. The Tiger: A True Story of Vengeance and Survival – An insane story about a famous tiger attack in Russia. Crazy!
3. A Higher Call: An Incredible True Story of Combat and Chivalry in the War-Torn Skies of World War II. An AMAZING book about a pilot in the German air force in WW2 and an American bomber crew. This is one of the best nonfiction books I've read this year and incredibly moving / heartwarming story about combat.
Related Posts: