I had an "awesome" birthday week, and hopefully Rose is as well :). Since I had to work so much the first 3 weeks I was in Croatia I took 3 days off to see more of the country and do some touristy type trips. I got rid of as much stuff as possible after Australia so I only have my old iphone 4s for pictures. And thus, the quality of photis is not great.
Sunday, a friend & business associate invited me to join his family and friends on a huge ship off the island of Vis for 2 days. It was a fantastic trip filled with a lot of great Croatian wine, absolutely amazing food, and good company. I was particularly proud that I slept on a boat, and that I didn't end up puking everywhere given some bad seasickness experiences I had as a kid :). The water around the island is crystal clear, and I swam all over along with a little bit of snorkeling. I'm hoping to come back in a year and bring my flippers and snorkel gear to do more.
After waking up we headed to the Blue Cave. You might think the below photo is faked but it is 100% like this when you enter, incredibly surreal experience. You expect mermaids to start jumping out of the water at any moment.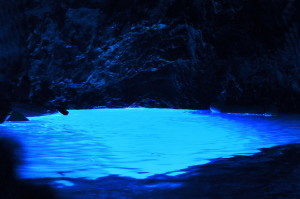 Later that day we did an amazing tour of a few military bases on the island of Vis. I highly recommend the Alternatura tour/guide as his english was great and he explained everything + knew the history of the island. I love military history and climbing through old tunnels and abandoned gun turrets is like a dream come true. Plus I got to go in a submarine base which has been a dream ever since watching indiana jones :). Best tour ever, and hopefully in a few years I can go explore some of the old Russian bases that have been abandoned too. A few pictures too…
And then I woke up really early on Tuesday to drive up to Bosnia and see Mostar and a lot of other stops along the way. The group on the trip were fun and we had some nice 10am grappa shots + a cold swim to end the day at Kravice.
And on Wednesday Dubrovnik, I think I found a few places they filmed Game of Thrones too. When I left split they were just about to start filming there and screening for extras for season 4!
And on Thursday I flew & trained to Freiburg Germany where I'll be for a month. It is near the black forest with an amazing trail system and I should be getting a bike to use next week :)